GTmetrix was developed by GT.net, a company based out of Canada, as a tool for their hosting customers to easily determine the performance of their site. Compared to other developer tools, GTmetrix is pretty easy to use and the beginner can pick it up pretty quickly. It uses a combination of Google PageSpeed Insights and YSlow to generate scores and recommendations.
The basic version of GTmetrix is completely free and you can gain access to a number of options simply by signing up for an account. If you have an account you can use specify a number of additional analysis options. The first is the ability to choose the location in which you want to test your URL. The physical location you choose is actually very important as it relates to where your website is actually hosted. The less latency, the faster your load times. Currently available locations include:
Dallas, USA
Hong Kong, China
London, UK
Mumbai, India
Sydney, Australia
São Paulo, Brazil
Vancouver, Canada
You can choose which browser you want to use. You can test with Chrome (Desktop) and Firefox (Desktop). Mobile versions are available in their premium plans. They also allow you to change the connection speed, which means you can simulate various connection types to see how they affect your page loads.

Additional options include the ability to create a video. This can help you debug issues as you can see how the page renders. If you are running a 3rd party ad network such as Google Adsense, you can enable this option to see the full impact ads have on your load times.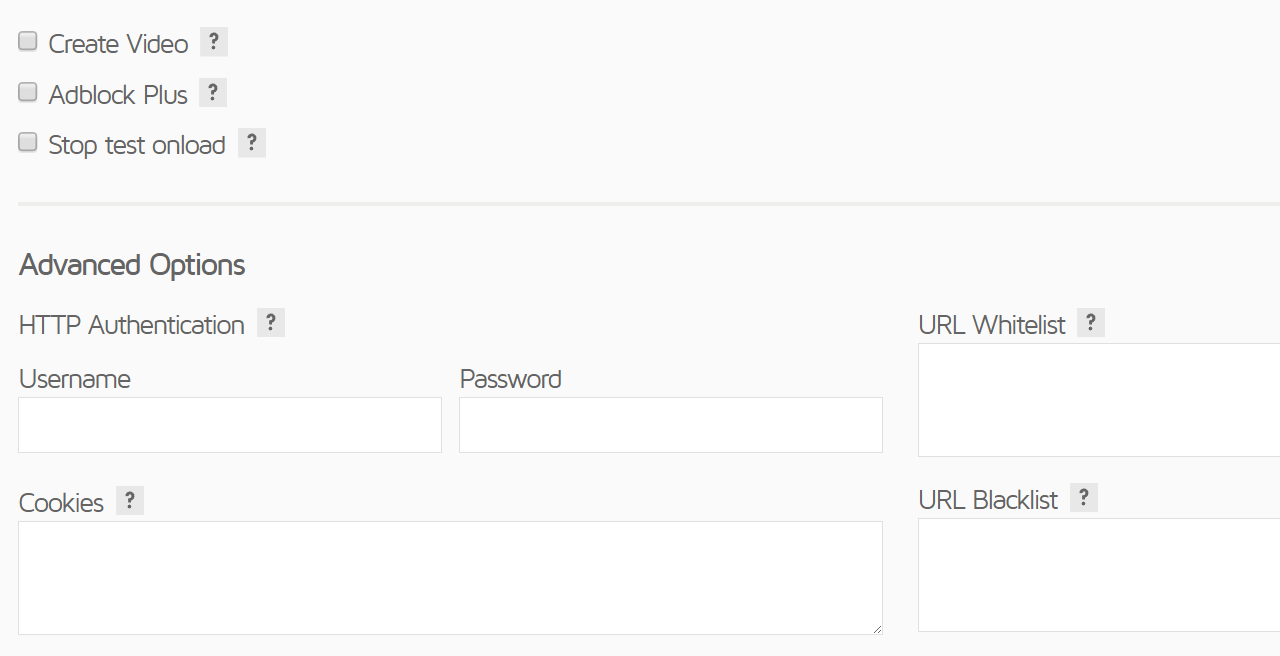 Additional options include stopping the test onload (which we will dive into later), being able to send a cookie along with your request, use HTTP authentication, and the ability to whitelist and blacklist URLs.
Analysis with the GTmetrix Speed Test Tool
A web page is made up of different assets, such as HTML, JavaScript, CSS, and images. Each of these generates requests to render what you see on your website. Typically the more requests you have, the slower your website will load. That is not always the case, but it is true most of the time. Below we are going to break up each GTmetrix section and explain in more detail what the information means as it pertains to the overall performance of your website and what to do about the recommendations. Remember not to obsess too much on the scores, but rather on making actual speed improvements on your site.
GTmetrix Summary (Performance Scores and Details)
When you run your website through GTmetrix it generates a performance report which includes your PageSpeed Score, YSlow Score, Fully Loaded Time, Total Page Size, and the number of requests you have on your website. In our example, we are using our domain performancestack.in. In our speed test our fully loaded time(cached) was 1.8 seconds.
Apart from PageSpeed & YSlow score, GTmetrix covers other page details and improvement option under different options like PageSpeed, YSlow, Waterfall etc.